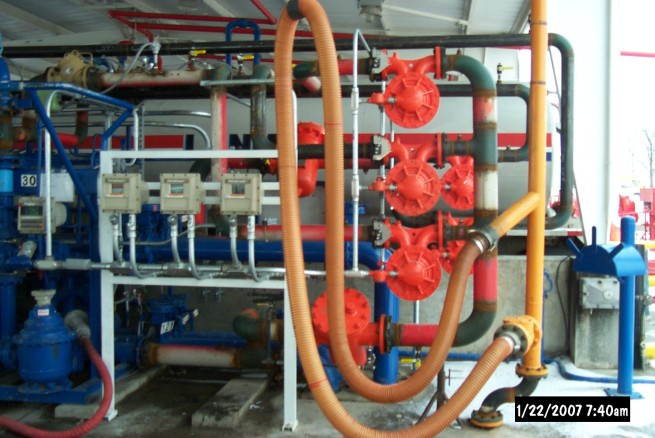 RyCOM Creative recently completed a new website for Midwest C&M Construction, LLC. Midwest is a Pipeline & Pipeline Terminal Construction & Maintenance company doing work throughout the Midwest. They work with companies like Exxon Mobile & Marathon to construct and perform maintenance work on pipelines.
Their previous website wasn't generating any real business for them, and looked out of date. RyCOM worked with them over the course of 3 weeks to create a new website that better communicates their services and focus on safety.
When discussing the new website Midwest made it clear that they wanted to assure the community that they operate a safe and environmentally conscious work site.
RyCOM looks forward to working with Midwest on a number of future marketing projects. The new website can be found @ midwestcmc.com

RyCOM has been selected for the 2nd Round of the Intuit Small Business Big Game Sweepstakes. Along with other great Small Business throughout the nation, RyCOM will compete for the Grand Prize, a commercial aired during the 2014 NFL Super Bowl. To vote for RyCOM, visit this link:
VOTING PERIOD IS OVER
Intuit is all about supporting Small Business, and is quoted:
Small businesses drive our economy, but rarely stand in the national spotlight. Small Business Big Game is one way Intuit is giving small businesses a voice and a chance to be admired as much as they deserve. How? By giving one lucky business the opportunity of a lifetime: a commercial in the Big Game on 2/2/14. – Intuit
Its wonderful to have been chosen for the 2nd Round, with as many great Small Businesses this country has.  The competition will be huge, and no matter the winner, the fact that a Small Business will be featured during the Super Bowl is HUGE.  Being featured on a stage the likes of what Intuit is offering would be amazing for me, and help to expand the reach RyCOM has in helping other Small Businesses reach their marketing goals.
All of RyCOM's clients know the great service they receive, but any of them don't know the story behind how RyCOM started. In RyCOM's  initial entry to the sweepstakes, owner Ryan Rydell explains what motivated the decision to start RyCOM:
After losing our home to a house fire in 2009, I spent the next year trying to get back to normal. With a long battle in court for insurance coverage & a home left in ruins, I was not feeling very optimistic.

In January 2011, after losing my job in Sales Management, I took my self taught skills & love for marketing & design and started my own creative marketing company, RyCOM. This allowed me the freedom to focus on family & rebuild our home.

2.5 yrs later, still fighting in court for insurance coverage, I am grateful for what the fire couldn't take from me: my family & their love/support.
Although RyCOM started out of a need to service my house and home, It is really about how RyCOM can help you.  I've seen a lot of success stories with the businesses that chose RyCOM for their marketing services.  Whether it be a new website, a branding project, or a complete marketing campaign, there are some success stories out there. Its these stories that I would like to tell as I complete my entry in the 2nd Round.
Has RyCOM helped your business?  Did you have a positive experience with RyCOM you would like to share?  Would you like to be featured in our video entry?
SUBMISSION PERIOD HAS EXPIRED

When Superior Industrial Equipment reviewed how its brand interacted with their customer, they realized the need for change.  When RyCOM was honored with the opportunity to work with Superior, I knew the project would have a huge impact on their business.
With an outdated and hard to manage website, Superior wasn't getting the best out of their web presence. Their old site worked, and had some appropriate content, but the system seemed clunky to the end user.  It was the kind of site that the Superior team had no desire to advertise to their customers.  The new design, which went live on Friday morning, focuses on changing this overall feel so the team could use the site as a sales and lead generation tool they are proud of.
The new site, found @ superiorpumps.com, features a clean and modern design that surrounds their core product lines, and an easy to use Content Management System.  There is no question that the new site will be used as a key player in their lead generation.  Plus, as the company grows, so can the website, with easy changes, updates and additions to their services and product lines.
In addition to the new logo, and other projects RyCOM is working on, Superior got a new logo that better promotes their professionalism and experience.  The blue color and the font type express their forward moving company without looking gimmicky.
I am very pleased with the way the new brand came together.  The company has such a great staff that is so easy to deal with.  I'm glad that their new logo and website will help more people see exactly how amazing Superior is.
RyCOM is currently working on some other projects for Superior, which I am equally excited about.  Updates on those project are coming soon.  If you like what RyCOM did for Superior Industrial Equipment, I can do the same for your business.  Let me know what you need by contacting RyCOM today.
CONTACT RYCOM TODAY