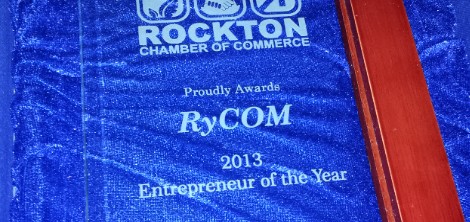 RyCOM was awarded the Entrepreneur of the Year Award by the Rockton Chamber of Commerce.
My business cards say 'Chief Everything'. I think this tells the story of all Entrepreneurs.  We do everything everyday for our business.  We are the sales, marketing, accounting, maintenance, legal, technical and customer service department all in one.  Its never easy to start a business, and its even harder to make it successful.  However, with the help of family, friends, great clients, and a wonderful community of fellow business men/women, being 'Chief Everything' feels like less of a burden.
The spirit of Entrepreneurship is what drives much of what I do.  In the marketing industry new ideas are the currency of growth.  Creative thinking fuels all advancement, so its pretty sweet that RyCOM was honored with this award.  Its a great way to cap off 2012, which was already such a rewarding year for RyCOM.
The Rockton Chamber of Commerce held their Annual Dinner & Awards Banquet on February 8th @ the American Center in Rockton, IL.  The same award was given to Positive Changes Chiropractic of Roscoe, IL at the 2012 banquet. Additional award winners this year are:
Business of the Year – NorthPointe
Pride of Rockton – Rockton Lions Club
Woman of Excellence – Sharon Hecox
Service Excellence – Marianne Mueller
Lifetime Achievement – Tom Polaski